LED Book Lamp
Sale price Price $27.97 Regular price $79.99
LED Book Lamp
Don't judge a book by its cover!
Don't judge a book by its cover, they say, and in this case, it really is true. That's because this lamp looks like an ordinary book when it is closed, but when you open it up, the LED light shines and the pages form a beautiful fan of soothing light.  This is a great gift for anyone who has great taste in home décor. Truly this lamp is a must have for every home.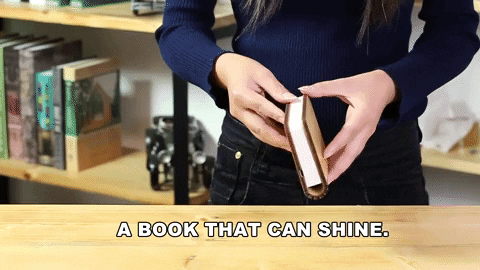 Since it is cordless, it is easy to place anywhere you like around the house. It is just as attractive on the nightstand among the rest of the books in the pile, as it is on the bookshelf. Or else, place the book lamp in the window so that the neighbors can see what a brilliant reading head you have!
In case you are worried about getting liquid spilled on it while maybe having a cup of coffee or a glass of wine as you read your favorite book, the lamp is made from Tyvek paper. Tyvek paper is highly water resistant and very durable. You can be assured that this lovely lamp will last for a very long time.
Features:
This amazing lamp has a USB rechargeable lithium-ion battery that can last for about 3-6 hours! The battery capacity is about 1000mA and the charging time is about 2.5 to 3 hours. The Lamp uses LED bulbs which do not need to be replaced. This fabulous lamp also has inbuilt magnets so you can stick them to anything metal. The lamp also rotates 360° so you can display the lamp at any angle you desire.
Specifications:
Super Long 6 hours + battery life 
LED bulbs - no need to replace
Made of Tyvek paper - water resistant and very durable 
USB Rechargeable
1000ma Lithium-Ion Battery - Safe + Tested 
360 Degree Ambient Light